Bi-folding doors transform your home and the way you live your life; relax in stylish open plan living areas or enjoy a stunning panoramic view from your bedroom.
Bi-folding doors are one of the best ways to optimise your living space. Their singular design means that they can save a tremendous amount of space in any area. Bi-folding doors allow you to create a beautiful open space between living areas and gardens or conservatories.
Bi-folding doors are hugely popular and exciting alternative to traditional patio or French doors. A unique way to bring the outdoors in, bi-fold doors provide a stylish and functional transition between your living or dining room, kitchen, conservatory and garden.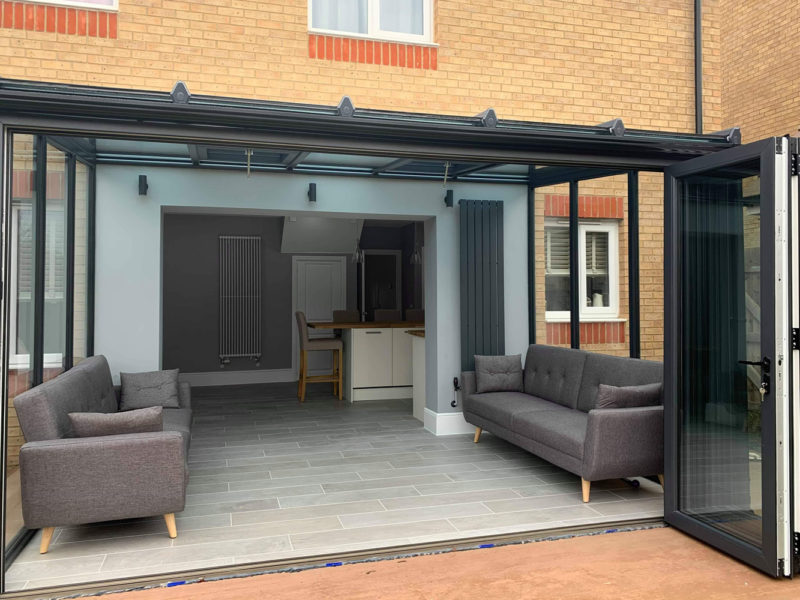 Advantages of Bi-Folding Doors
Space saving – open sideways meaning room space is retained
Up to 90% opening space
Allow for open plan living
Range of opening options, colours and finishes
Guaranteed for 10 years
We offer both aluminium and UPVC bi-folding doors allowing for a beautiful finish between outside and inside as well as providing exceptional security and durability. Our multi-panel systems allow you to open up as little or as much of your room to the outside – which is ideal when you want to regulate the temperature.
Customise your Bi-Fold Doors
We offer a wide range of options for you to choose from with all our doors. You can have different finishes on each side of your doors to match both the interior and exterior of your room.
Foil Finishes Available
White Slate Grey Moss Green Silver Grey Basalt Grey
Cream Anthracite Grey Dark Green Sienna PN Chartwell green
Agate Grey Beck Brown Wine Red Irish Oak
Contact Us
Contact us today to arrange a consultation, request brochures or for a no-obligation quote. We are always happy to answer all enquiries. Contact us here.
Our bi-fold doors
We use a unique VEKA outerframe design with 70mm front to back frame and sash depth. We have flush sashes for maximum aesthetic appeal. Our range of designs feature up to 7 sashes and up to 6000mm width and we also offer flush sash French and residential door options. All our doors are secure by design approved (SDB).
All our doors come with a 10 year guarantee.
If you have any questions about our range of products, or would like to get in touch about pricing, please contact us for a quotation today.