Open up your home to bring nature in by investing in the right patio doors for your décor. Did you know that patio doors can make your home feel bigger? After all, patio doors allow you to see the world outside, and it will feel as though it is an extension of your home.
Imagine sitting in your home, relaxing as the sun shines through your patio doors. Imagine relaxing into your couch as your family plays outside, not feeling excluded as the doors allow you to feel a part of it.
We offer elegant frames, and an easy-glide action to make sure your doors are easy to manoeuvre. All of our patio doors are available in PVC-u, timber and aluminium. No matter your décor we have the right patio door for you as we have a range of colours and finishes available.
Not only will a patio door provide you with a sense of security, but they will also allow you to enjoy the wonders of your garden all year round. You will be able to see the sunshine, wind rage and snowfall from the comfort of your own cosy couch.
If you require more information about our patio doors, please do not hesitate to contact a member of the Profit Windows team. We have a wide selection of patio door designs to meet your requirements, so contact us today to find the right one for you.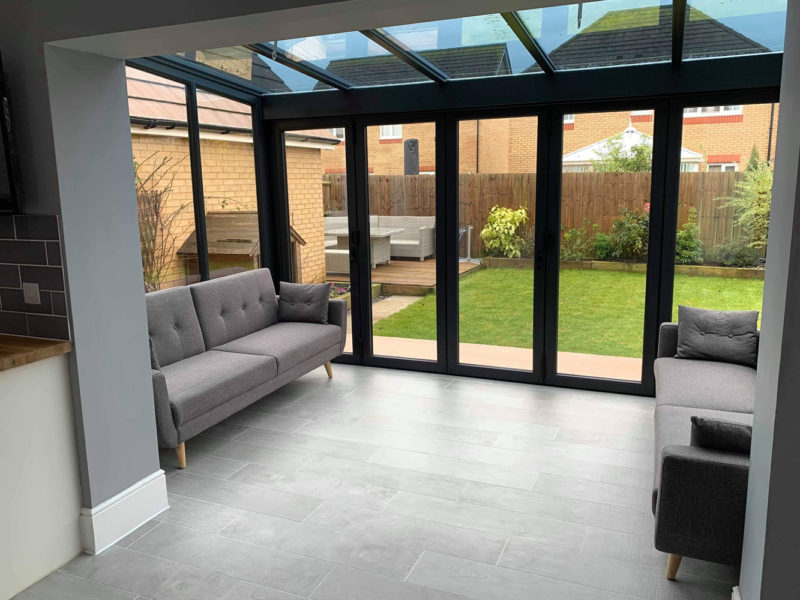 Advantages of Patio Doors
Create an open feeling to any room
Increase space
Range of opening options, colours and finishes
Increased security
Guaranteed for 10 years
We offer both aluminium and UPVC doors both of which offer exceptional durability and fantastic aesthetic appeal. Our patio doors are fitted with a smooth track system to ensure ease of use and also are designed to maximise the amount of light coming through your patio doors.
Customise your Patio Doors
Our patio doors are fully customisable to suit your own stylistic requirements and can be finished in a variety of colours and finishes. A
Foil Finishes Available
White Slate Grey Moss Green Silver Grey Basalt Grey
Cream Anthracite Grey Dark Green Sienna PN Chartwell green
Agate Grey Beck Brown Wine Red Irish Oak
Our Patio Doors
All our patio doors come with 4-point directional locking. They also have 2, 3 and 4 pane options so you can get the perfect style for your home. Low thresholds are available with all doors offering 28mm sculptured bead.
All our doors come with a 10 year guarantee.
Contact Us
Contact us today to arrange a consultation, request brochures or for a no-obligation quote. We are always happy to answer all enquiries. Contact us here.